Liquid effluent monitors
---
ELSE NUCLEAR has developed over the years a wide range of solution for sampling and monitoring liquid effluents and measuring their level of contamination before they are released. Thanks to their modular concept, the liquid effluent monitors can be adapted and customized to meet any specific requirement.
Up to date, ELSE NUCLEAR supplied liquid effluent monitors to many hospitals, nuclear power plants, research centres, and other sites worldwide.
Discover our liquid effluent monitors:
Systems for monitoring and disposal of radioactive wastewaters before free release (WDMS NT-VK)

Systems for gross gamma measurements on wastewater samples (LEM)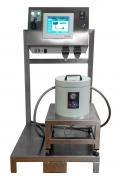 The LEM system allows to sample the liquid effluents and to perform a gross gamma measurement of the specific activity in Marinelli geometry. 

The WDMS NT-VK system is designed to collect and monitor radioactive wastewaters, which can be released only after their radioactivity drops below a defined value.
NT: Number of Tanks, indicates how many decay tanks are used in the system
VK: Volume in Kiloliters, indicates the volume of each decay tank expressed in kiloliters